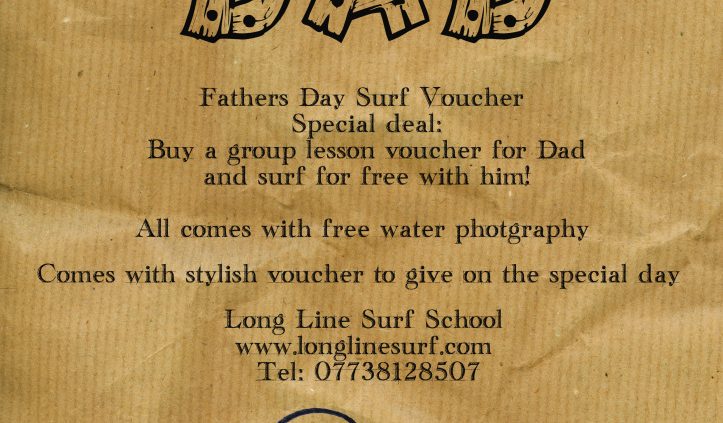 Fathers Day is on it's way around again and once again sons and daughters can't figure out what to get Dad. I know over the years when it comes to my Dad, my brother and I just seem to get the same old hallmark card, maybe some Dad socks and a CD, also the occasional "No 1 Dad in the World" mug which never gets used unless it's the last clean cup in the house!
So I went to work the other day and thought what would be a kick ass Fathers Day gift family can give, and it made me think back to all the objects I bought which were never used again and then it hit me. Give him an experience….. maybe something he has always wanted to do but never got the opportunity….. an experience  which lets him spend quality time with his children…… a memorbale experience in an area of outstanding natural beauty.
So after a few hours of photo-shopping, drawing and re-photo-shopping this is what I came up with.
A FATHERS DAY SURF VOUCHER
Present your Dad with a stylish voucher printed on recycled brown card showing him a time and place ( Benone ) where he can go and get in the water and fun just like all the time he watched you growing up and enjoying experiences. Give him that simple smile of satisfaction and happiness you would see on a child.
But that is not all! This voucher also intitles the buyer (YOU) to join in for FREE and experience this great sport with your Dad.
So give us a ring or email and book your voucher now. We will be running 5 lessons on the 17th June for Dads so choose your time and lets get suited !
Fathers Day voucher are £30 each which includes a father and Son/Daughter for 2.5 hour group surf lesson with all equipment provided for FREE.
info@longlinesurfschool.co.uk
Tel: 07738128507
https://longlinesurfschool.co.uk/wp-content/uploads/2014/03/fathers-day-2.jpg
1023
723
Longline Surf School
https://longlinesurfschool.co.uk/wp-content/uploads/2022/01/LongLine-Logo-Primary-Colour-Sand-1030x1030.png
Longline Surf School
2012-05-30 13:14:29
2017-03-01 11:11:52
Happy Fathers Day !!