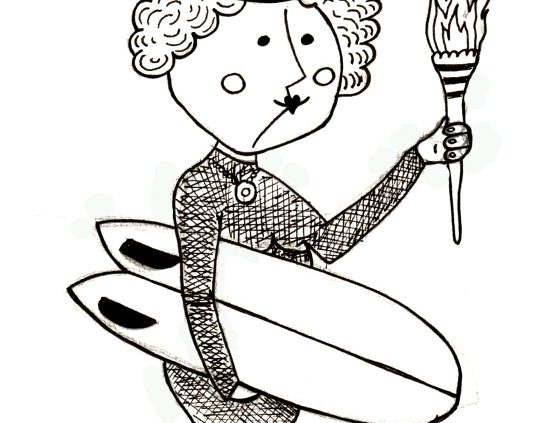 1st – 5th June, Two thousand and twelve will be one of the best Bank Holidays of the year if not the Decade.
Thanks to the Queen and her Jubilee Celebrations we get 5 days off to go down to the beach  to swim, paddle, BBQ, surf and have un.
What makes this weekend even better is that the 4th June is when the Olympic Torch passes by the front of Benone avenue during its running Ceremony around the country. This is something which is a mark in history as this is something we will probably never see again in this country never mind the front of our doorstep. On that day we will be pitched up at the side of the road with a celebratory drink in one hand and a camera in the other.
I know what you are thinking! What is Long Line Surf School doing on this historical weekend. Well…. Well…. we have everything on the go. Shall I List to you:
Jubilee Kids Camp – Saturday to Tuesday.
10am – 12noon every day. £15 per session or £55 for the entire weekend. Check out our website for info on what the kids get up to at Camp.
Don't miss out on our famous kids camp filled with beach games, surf safety and most of all a lot of fun. This is aged 6-12.
Mid Day Session: 12:30 -3:00
Afternoon Session 3:30 – 6:00
Evening Session 6:30 – 9:00
It gets even better as we have put up our best offer yet of BUY ONE GET ONE HALF PRICE.
So lets break it down…… buy your surf lesson for the normal price of £30 and get one for half price (£15). This deal can be used by you  so you can have two lesson in one day or why not treat a family member of friend to join you on this weekend and one neither of you will forget.
Book now with us to reserve your time and space
Tel: 07738128507
info@longlinesurfschool.co.uk
www.longlinesurf.com
https://longlinesurfschool.co.uk/wp-content/uploads/2014/03/queen1.jpg
1024
556
Longline Surf School
https://longlinesurfschool.co.uk/wp-content/uploads/2022/01/LongLine-Logo-Primary-Colour-Sand-1030x1030.png
Longline Surf School
2012-05-30 13:40:46
2017-03-01 11:11:52
Jubilee And Olympic Weekend