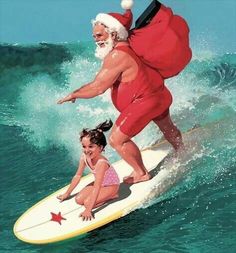 We are so excited to announce that Santa has decided to come surfing at Benone this December and we just can't wait !
Santa? ……. Surfing? ……… Benone?
How on earth did that happen you may be asking. Well this is how it all came around.
In Binevenagh Forest there is a family of fairies that live at the fairies ring who befriended a local Elf called Alfie. Alfie lived with the fairies for a number of years and with the view of Benone from his home he naturally took himself down to the water where he learnt to surf. A few years ago Santa found out that Alfie was surfing the winter waters of Northern Ireland and so he was asked by North Pole Headquarters to head up to the North Pole and become Santa's surfing helper as many elves in the North Pole could not bear the cold waters of the Arctic.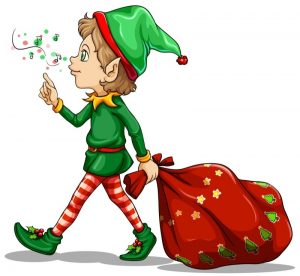 Alfie became Santa's best friend and the two became inseparable. Santa took Alfie around the world for December and surfing many countries from Australia to California to Portugal. When it came to Northern Ireland they always found themselves so busy that they never had time for a surf but always flew over Benone and seen the great waves coming through on this magical beach. So this year Santa decided that they needed to get to Benone and surf it as much as possible before the 25th December. Now with it being such a busy time in the North Pole right before Christmas, Mrs Clause made sure that if they were going to leave for a surf trip they would need to take a number of elves with them and set up a workshop at Benone so they could continue working when they would not be surfing. Santa left Alfie in charge of setting up a elves work shop and also somewhere Santa could meet the local children. This was no problem as Alfie knew the exact place which could offer all of this.
At this point Long Line Surf School was sent a letter to ask if Santa could take over. Well what could we say?
When we said yes, Alfie sent us blue prints of how Santa would like the Cabin and Workshops set up and also what food he would like from Boardwalk Cafe. We have got till 2nd December to get this ready for him.
We look forward to having Santa, Alfie and his friends come to Benone and we can't wait for all the local children to join us.
Click here to find out what to expect from Santa's Grotto at Benone.
https://longlinesurfschool.co.uk/wp-content/uploads/2016/11/4f430af5ae7aa6ac3728875c6dad55fa.jpg
253
236
Longline Surf School
https://longlinesurfschool.co.uk/wp-content/uploads/2015/11/website-header-copy-e1447881736453.jpg
Longline Surf School
2017-10-01 17:25:43
2017-10-09 20:46:45
Did you know Santa is coming surfing at Benone ???