New International programme for teens at Benone strand this summer offering local boys and girls the chance to take part in an exciting beach adventure camp and meet visitors from France and Spain.The programme is being run as a joint venture between Northern Island Ltd and Long Line Surf School.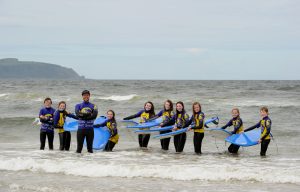 The idea is that visitors from both France and Spain will come to our area this July and take part, together with local boys and girls, in a privately run beach camp run by local surf school Longline at their base in Benone Strand.Activities programmed at the camp this year will include surfing, SUP, Giant Paddle, Beach Volley Ball, Tennis, Art and much more besides.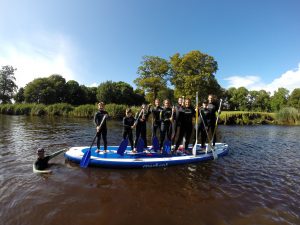 The programme will be running from the 4 -25th July, 3 weeks in total. The programme runs from Monday-Friday starting at 10am daily and finishing at 4.30pm each day.Visitors will be hosted by local host families. These families would need to have boys or girls of their own aged between 11-16 and would be given a free place at camp for their own son or daughter in return for hosting the visitor. Visitors will be coming for 2 or 3 weeks during the programme duration so families can choose to take part for the 3-week duration or indeed for the first or second fortnight of the programme.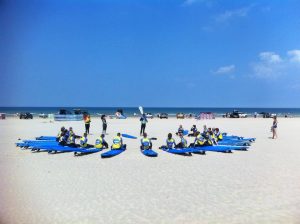 This programme is a new initiative in the area for 2015.However Northern Island have been running similar programmes in other areas of Northern Ireland for years and hear are some of the comments from their participants:
"We have really enjoyed our summers with our Spanish and French visitors. The activities at the camp are absolutely fantastic and really helped us to get to know each other within the group despite being from different countries. Some of the activities, like the really rely on teamwork so we had to come together as a group from day one. We have made life long friends and are in touch almost every week by messenger. We have almost made some new local friends whom we would not have otherwise had the chance to meet." Matthew (15)
"In the four years we have been taking part we have never had a difficult student. They have all been lovely and we have always had fun together. It has been great to learn from each of them about their cultures and routines in their own countries. We think that the experience has encouraged us to keep up our study of languages and has definitely made us more interested in travelling abroad. We will definitely encourage our friends to get involved this summer." Melissa (17)
The programme at Benone offers an exciting alternative to fill at least a few of the long weeks of the summer holidays and is something that benefits young people both physically and culturally at the same time.
Northern Island is now looking for families to take part in the programme. In order to be eligible to take part families should have a boy or girl aged between 11-16 years old and be available for 2 or 3 weeks during the programme dates. They should live within the Limavady or surrounding areas and be able to transport to Benone Strand daily.
For further information or further photos please contact Judi Boyle: judi@northernisland.net 02895810275/07955232563
or contact Long Line and we will help you get enrolled
https://longlinesurfschool.co.uk/wp-content/uploads/2014/03/DSCF2297-scaled.jpg
1920
2560
Longline Surf School
https://longlinesurfschool.co.uk/wp-content/uploads/2022/01/LongLine-Logo-Primary-Colour-Sand-1030x1030.png
Longline Surf School
2015-03-04 22:28:29
2017-03-01 11:11:46
NEW INTERNATIONAL SUMMER CAMP