On Tuesday 5th April 2016  Eunan and I (Dan) decided to do a beach clean. We wanted to see how much litter we could collect in an entire day. Being a regional rep for Surfers Against Sewage I am tasked to organise a number of beach cleans a year, some are with community groups, some are with schools and some are an invite to members of the public. This is not a dig but I usually find that the invite to members of the public is usually a very small group of people and sometimes even no one shows up so I wanted to show people that anyone can do a beach clean and it does not have to be done by a huge number of people and this can be done at any time of the day. So we set a date and let our facebook friends know what that Eunan I would be cleaning the beach from sunrise (6:30am) to sunset (8:30pm) which would hopefully take us from Magilligan Point to Downhill Beach  and to ring us if anyone wanted to join in and this way we had no high expectations of vast numbers of people helping as we had already set our own goals.
The alarm went off at 5:45am and I got up without hitting snooze (which never happens by the way) and gathered my things and the dogs and jumped in the car and headed down to Magilligan Point. There I met Benone Head Surf Coach Eunan Brown (who was late as per usual). The sun rise was incredible and enthusiasm was high. The reason we started our journey at Magilligan Point is that it is a catchment area for litter and will collect on the shores very quickly and in high quantity. We found a lot of different things including a lorry tyre which took 1 hour to wheel off the beach and up through the sand dunes to the road, toys, shoes and of course plastic bottles. As the morning went one our first friend appeared. Nigel McFarland from Mobile Services and close friend to Long Line. Nigel came down and helped us out, while keeping us entertained with stories of the wild west of Benone back in the hay days.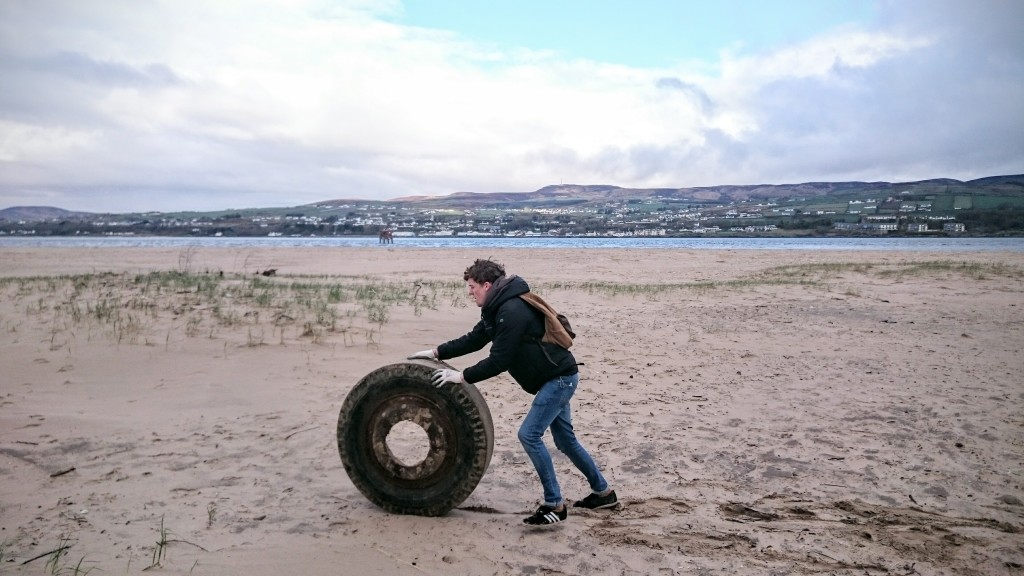 Overall it took us 7 hours to clear the point. In that time we collected 14 bags, 1 lorry tyre, 1 lobster pot and 4 oil drums. The point actually looked cleaner which helped motivate us to move on.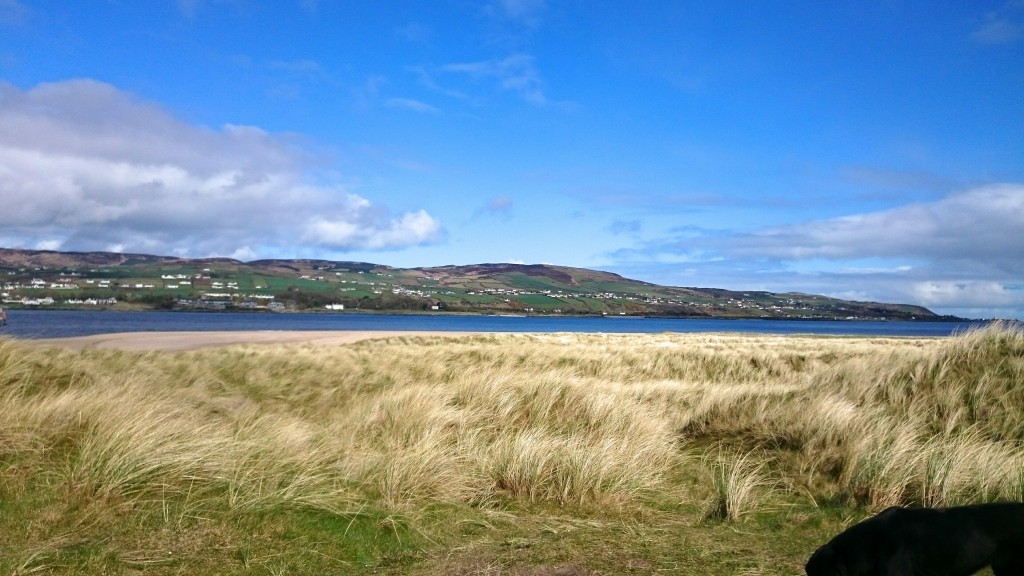 Before that we headed into the Point Bar for a little tipple and Owen was very kind to give us our lunch. I tell you, we were glad of a good feed.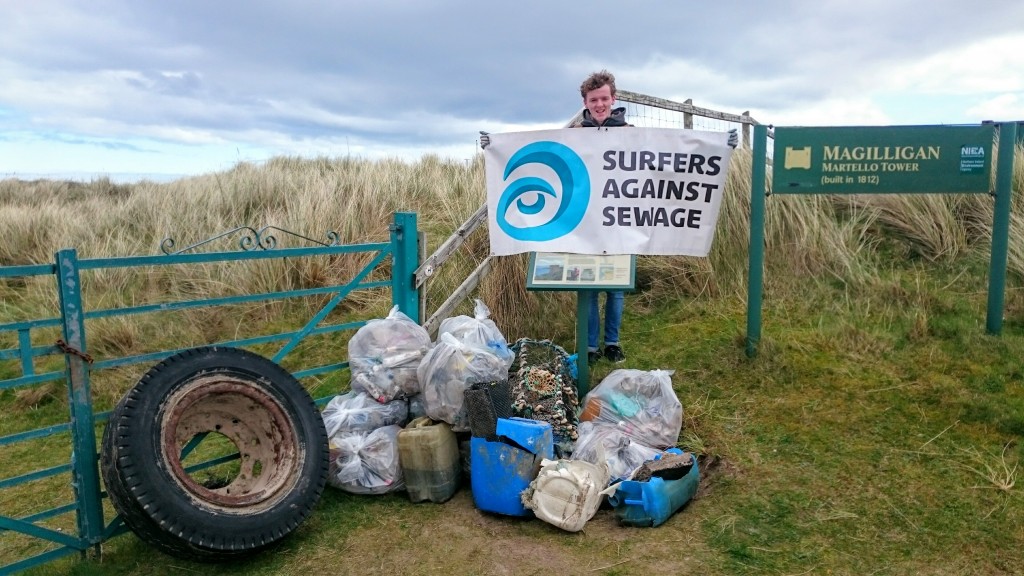 We then made our way round the corner of Magilligan point and onto the start of Benone Strand. Here we were joined by Catherine who is a local hoola hoop dancer and her dog Pal, Thomas Deighan Junior who is a Benone Local and knows the beach like the back of his hand, Rebekah, Bethany and the Kids, Gary, Josh and even Mum came down and helped out after she finished work before heading home. It was great to see a helping hand which kept the spirits high as the day went on. Again a great clean with high number of fisherman gloves and nets. Once we started to reach the entrance of Benone where we surf we started to check up in the dunes where we found the remains of parties, beer bottles, can and broken glass. Now don't get me wrong we al like a good party but it really is important to clear up after. On Benone we collected 13 bags, 2oil drums, 2 buckets, 1 barrel and two sofa cushions.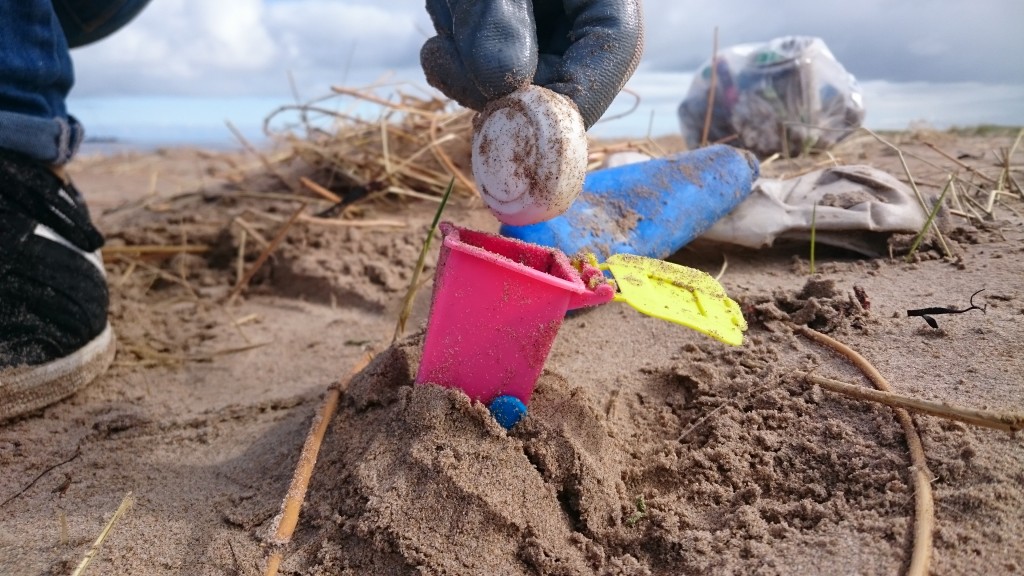 At this point there was 2.5 hours left to go and we were on to our last stretch which is Downhill. This is when we started to get tired, sore backs, sore knees, sore hands and we couldn't wait for that sun to set and for us to go home. When you set a challenge you complete that challenge. Nigel came back down again and helped cross the finish line with a surprisingly clean Downhill section with 5 bags of litter.
The sun had set and we completed our 14 hour beach clean, we cleaned, we laughed with friends, we walked our dogs and we cleaned up our playground. It shows what can be done in a day, This doesn't mean that it is over as 46,000 pieces of plastic float in each square mile of ocean which means our beaches will be covered soon enough and this time you should help. You don't need to do 14 hours but you can do something, 2 minute beach clean, lunch break beach clean or beach clean while walking your dog. Make a difference to your beach and keep our beaches clean for all enjoy.
https://longlinesurfschool.co.uk/wp-content/uploads/2016/04/DSC_0632-scaled.jpg
1440
2560
Longline Surf School
https://longlinesurfschool.co.uk/wp-content/uploads/2022/01/LongLine-Logo-Primary-Colour-Sand-1030x1030.png
Longline Surf School
2016-04-13 10:46:18
2017-03-01 11:11:44
Sunrise to Sunset Beach Clean. April 2016