Well the summer has finally come to an end and what a summer it was. Super hot July and bit of a wet and windy August but when it comes to getting outdoors it really doesn't matter. After working for 80 days straight Dan (me) and Dom decided it was time for road trip. We had both been on road trips in the past both in the UK and Europe as well as other trips around the world and sometimes you score waves and sometimes you don't. It is always down to the luck of the draw. With this trip we weren't really fussed if we got surf or not it was all about heading off on an adventure. It turned out to be a trip of lifetime and it was all on our doorstep. 4 days… 600 miles and a van filled with surfboards, Beds, sofas and a BBQ…. we met new friends, caught up with old friends and seen a completely new light for travelling around the North West of Ireland.

Finished work and turned our surf school van into a home. Drove from Benone to Dunfanaghy. Met up with our friend and guide for the next 36 hours Dave. It was dark when we arrived so was time to catch up and have food so we went to his friends pizza place. "The Rusty Oven" – we walked around the back of the Square in the middle of Dunfanaghy and felt like we stepped across a hidden treasure. We befriended Jonny and Kit who opened the Rusty Oven last year and who gave the greatest hospitality I have ever experienced, real honest, hard working and just know exactly what they want. The Pizza oven is outside under two marquees surrounded by rustic tables and tea lights and in side they have converted a pig shed into a piece of art with reclaimed furniture and the most amazing artwork you have ever seen. From the minute we turned up to the minute we left I was just excited about everything these guys were doing. The menu is incredible and all the pizzas are made in a stone fire oven with sour dough base which they hand make, no machines allowed. It is well worth a trip to Dunfanaghy even if all you do is eat pizza from the Rusty Oven.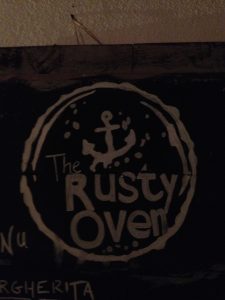 5:00am wake up, Jump in the van and down the road to Magheroarty to surf first light. Awesome left hand break over boulders and in front of a harbour wall with awesome fishing boats.
Back to Dunfanaghy for Breakfast and then off to surf Fulcarragh. Super fun wedgey wave with lefts and right.
Back to Dave's house for lunch and then waited for low tide to go surf outside of town. (would like to mention it but don't want to rock the boat) A spot I have surfed for years but this time it was good fun with new and old friends 🙂
Very tired but really keen for more surfing so went to Marble Hill. Beautiful beach with incredible surroundings. Fun wave and warm waters.
Finish the Day with Beer and Natchos.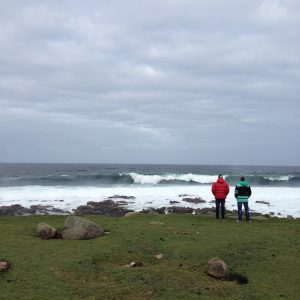 Another 5:00am start and down the windy and probably not the best steep tracks in a large van to go surf Bloody Foreland. Surf was pretty big int he morning with sets of double – triple overhead. Found it a bit sketchy getting in and out of the water but good wave. As it was so big it seemed to break further up the point, surfed now so can tick it off the list.
Got back to Dave's where we had breakfast and said a massive thank you for his incredible hospitality. When you meet someone who knows a lot about their local area but is so passionate about it as well makes a location feel that bit more special. Dave you legend !!!
Onwards to Easkey outside Sligo where we surfed the right hand reef with no wind and perfect head high conditions twice. Met up with Andrew, Mel, Leah (the dog), John, Gary and Andy for a few surfs and then an awesome BBQ and camp fire overlooking the reef.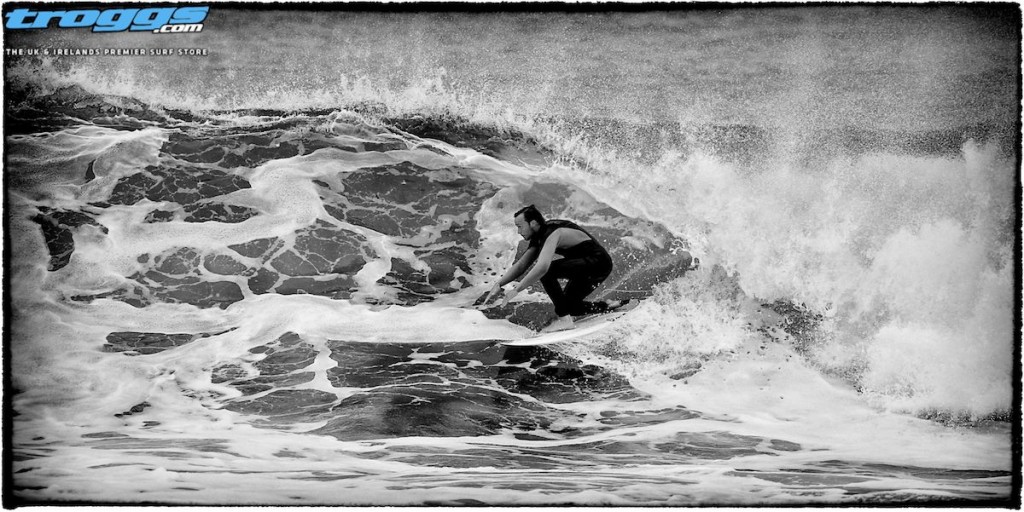 Woke up in the van and was able to look out to most perfect sunny day and small perfect conditions. Dom surfed but Dan didnt. (too tired)
Had breakfast in Easkey and then joined up with Andrew, Mel, John and Gary in convey and headed for a little beach outside Sligo for a surf. Super dumpy but a lot of fun. Back in the vans and up to surf a reef outside Bundoran (not sure if I can name it so won't). Had one of the best sessions of my life with a few friends, sun, no wind and super easy barrels !!!
Pulled the van up beside the Peak in Bundoran, had dinner and went to the bridge bar for drinks and good craic.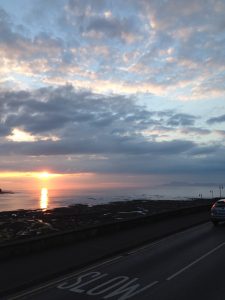 Woke up and drove further north. Seen the sign for Dunfanghy and thought we would call back in and say hello. Surfed a little wave in Tramore with Dave. Great location with awesome walk to the beach.
Left Dave and traveled North East and ended up in Ballyliffin. Went for a walk and found a awesome little right in the middle of beach. Surfed there for a few hours when Dom seen a fin out at sea. We decided to paddle the 100 metres out to see if we could see it. The most amazing basking shark started swimming around us. to have that expereince with you best friend in the middle of an empty bay and clear waters is a night I will always remember.
Had awesome dinner out the back of the van and then drove to Greencastle where we went for drinks at Keeleys.
Woke up to another still morning where we could finally see home across the water. To see the coastline of home from another angle really gives the sense of appreciation of where you live and come from. Jumped on the ferry and headed home.
The entire trip was incredible and every experience added its own personal touch to the trip with each surf break, each surfer and each local. It is always important to embrace the culture of the places you visit and we were taken in by each one of them.
Cant wait to get back down again !!
Check out more photos on our facebook page – https://www.facebook.com/media/set/?set=a.562162647216752.1073741879.120935328006155&type=3&uploaded=50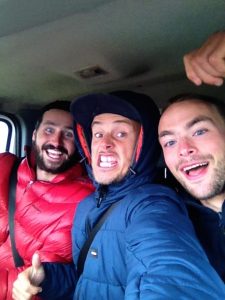 https://longlinesurfschool.co.uk/wp-content/uploads/2014/09/10536519_10153075666969918_7712476645296468992_o.jpg
601
1200
Longline Surf School
https://longlinesurfschool.co.uk/wp-content/uploads/2022/01/LongLine-Logo-Primary-Colour-Sand-1030x1030.png
Longline Surf School
2014-09-09 18:47:09
2017-03-01 11:11:47
Surf Trip of a Lifetime