THE ULTIMATE GUIDE TO ESCAPE "THE OPEN"
With the largest sporting event in Northern Ireland gracing the Causeway Coast with its presence this week we are going to see a lot of park and rides, helicopters drop offs and the eyes of the golfing world  all looking on Portrush. It is going to be one amazing but crazy time for the area. But for all the outdoor loving people out there who have no interest in golfing then we have decided to give you a Long Line Guide of things to do in order to escape "The Open" and enjoy a relaxing, secluded experience on this stretch of coastline. 
What will we do with the Kids ? 
This is an easy one! We have been running award winning Kids Surf Camps for 8 seasons now and we know how to make the most out of a morning, regardless of sun or rain. Kids Camp is designed for 6-12yrs old looking to surf waves, play beach games and have a full sea side experience all in one. Long Line Kids Surf Camp will run every morning from 10am – 12pm. 
https://longlinesurfschool.co.uk/product/kids-surf-lesson/
Want to leave the kids with us all day? This Friday we have a few spaces left in our Kids Big Day Out. This will consist of 6.5 hours of fresh air, laughter and salt water. The kids will enjoy a surf lesson in the morning followed by a picnic before jumping into beach games and then finishing the day with another surf and swim afternoon. This day is extremely popular and will probably fill up very quickly. 
https://longlinesurfschool.co.uk/product/kids-big-day-out-kids-surf-lesson/
The Full Family Experience
For those parents that don't want to stand at the side lines and watch the kids having fun we have you covered. Family Surf and SUP Lessons with special rates and the option to go private with your own personal coach is available all week. Choose between a beach day at Benone or a River day down on the Roe. Either way you will not be disappointed. Our coaches will also be there to take photos of this special moment. 
Click Here for Stand Up Paddleboard Lessons 
A day to yourself 
Have time off work and don't want to spend it in the city or in a car bumper to bumper with half the country? Then cruise on down to the Binevenagh Area where you will be able to surf along a 7 mile beach. Create your own space along the strand, there is enough room for everyone, or grab a paddle and jump on river where you can flow into nature. Surf Hire is available from Sea Shed Coffee & Surf on Benone Beach. Stand Up Paddleboard Hire is available from Swanns Bridge Glamping. 
The Adventure 
Maybe you want to get away from everything including our list of things to do and create your own adventure, then come grab our Adventure SUP Hire Package or surfboard
and take yourself away. Maybe jump on the Ferry and head to Donegal? We can talk through some awesome options but let's make something amazing happen 
We wish everyone an amazing week no matter what you decide to do but if you want to have a fun week away from mayhem then come say hello. We are here to create an experience so if you need any help or want to plan something bespoke then look no further.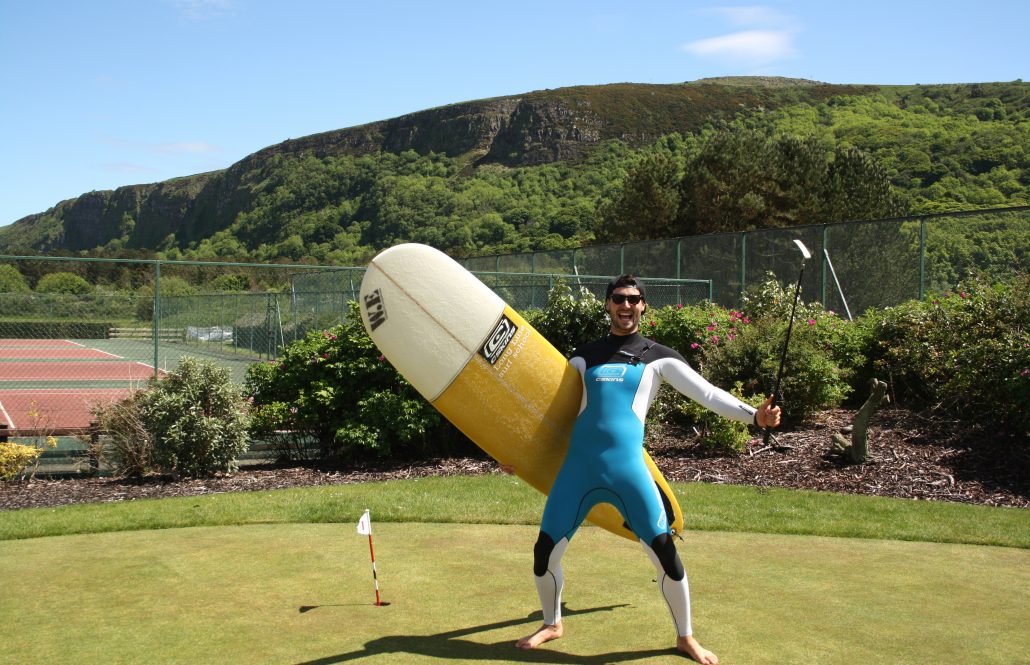 https://longlinesurfschool.co.uk/wp-content/uploads/2019/07/unnamed-4.jpg
2160
2160
Longline Surf School
https://longlinesurfschool.co.uk/wp-content/uploads/2022/01/LongLine-Logo-Primary-Colour-Sand-1030x1030.png
Longline Surf School
2019-07-14 23:30:13
2019-07-14 23:30:13
THE ULTIMATE GUIDE TO ESCAPE "THE OPEN"