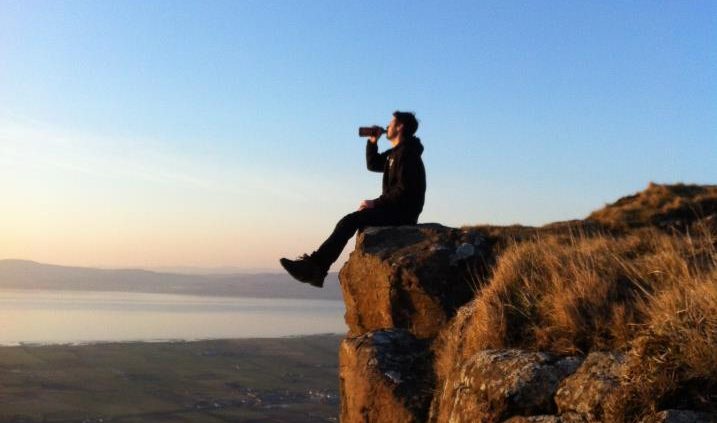 Well its been an awesome month. Lots of fun surf, BLUE sky and even started to get into hiking. Don't know why I haven't done it before when I live under one of the best mountains in Northern Ireland and the views from the peak are incredible!! Apart from that I have been busy making posters and organised some awesome events for the surf school. Really wanted to create something for everyone and I'm fed up of seeing the same style of poster for surf schools so I have done mine a little bit different and drawn all my own artwork for every piece which takes a little bit extra time but I think it is worth it.
The first event is actually next week. The 9th March is the first birthday of Long Line Surf Cabin. If you look down through the blogs you can see how the whole thing started and throughout the year I have kept adding things whether that is big projects like changing rooms and seating areas or smaller things like a ranch style gateway and driftwood sculptures for outside. I am so happy with how the first year went and really grateful for all the loyal customers whom have stuck by me and have become close friends through the sport. So we are offering a half price lesson on the 9th from 9:30am – 12noon. Its going to be an awesome lesson and anyone is welcome no matter your ability is. All the instructors are going to be on a high so fun fueled and just a real stoked atmosphere.
The second event is one I have already blogged about and that is the surfers academy which is going to run for 9 weeks starting from 22nd March and will take all them keen surfers and want to be surfers to that level where they can pretty much pack their bags and feel comfortable in surfing on their own or with a group of people and have the skill and knowledge to back themselves up. Its going to be a good course and as always all information will be provided by ASI which means it is the top surf instructors package you can get! Will also be a nice way to make new friends which I think will be the best part. This will run every Friday from 6pm – 9pm until May.
Also starting on this weekend is Adventureland which is a massive outdoor orientated festival which lets people get a taste of a large range of activities throughout Northern Ireland for really cheap prices. We will have the Adventureland Special offers running on Saturday and Sunday with Family sessions running from 9:30 – 12noon for a small price of £10 per person. Then in the afternoon from 1pm – 3:30pm there will be an adult only session running with 50% off which is only £15 per person. Both deals will come with a free bottle of water. Its going to be an awesome weekend and there are limited spaces which you can book via theses links:
Family Session: http://www.outdoorni.com/adventureland/4600/family-surf-session/
Adult Session: http://www.outdoorni.com/adventureland/4601/surf-experience-for-adults/
Once that weekend is over with we are then into to Easter!! Can not wait for this and we have loads of things happening for the kids over the holidays with our Kids camp running every morning  from 10am – 12 noon and this is our most popular camp with kids aged 6-12 years old can come down to the beach and enjoy surfing as well as beach games with our very qualified lifeguards and surf instructors. We do offer a one session price of £15 per child or if you want them to really have an awesome Easter then book them in for 5 days and let them surf with their friends every morning for £70 which is the best value kids camp in Northern Ireland!!!
During the Easter week we also be having our annual surf and Easter egg hunt on Easter Monday with the normal kids camp time of 10-12. We spend the first part of the morning using maps to find the Easter eggs hidden in the long dunes of Benone. This is an awesome experience and really gets the kids excited (mainly due to egg shaped chocolate). Finish the session off with a surf with the whole gang! This is the same price and has the extra bonus of an Easter Egg for every child.
Then later in the week we will be having our first KIDS BIG DAY OUT of the year on Friday 5th April. If you haven't heard of our Kids Big Day Out before then your missing out. Drop the kids off with a packed lunch at 10am and let them enjoy a surf session in the morning followed by lunch and then straight onto the beach for games and hide and seek in the dunes. Get back up the cabin and get changed for a body board and swimming session. The day will finish at 5:30pm and believe me the kids will have had an awesome day and will probably sleep the entire evening which I am sure parents will be thrilled to hear. This day is only £30 per child.
Easter Kids camp will finish on Sunday 7th April.
Few weeks later we then have created an event just for you girls out there. Sailor Girl Surf and hoop day. Aimed at girls 16 and over you can come down on your own or as a group and enjoy a morning of surfing followed by a Hoop and Zumba session taken by our very own Catherine Simpson form Harlequin Hoop Dance. She is so good and I have to admit I have my own Hoola Hoop and really do have a good time swinging my hips haha. This will be on Saturday 20th April and will run from 9:30am – 3:00pm and this is only £35 per person.
I can not wait for this all to start. We will be tired but who cares when you get to have this much fun. We are the most event packed surf school in the entire country and you will find no better or qualified instructors anywhere else! Especially one with a wooden Cabin set on the boardwalks leading to a 7 mile beach. If you want more info on any of these events give us a call or email or even a facebook shout out!!
Long Line Surf School
info@longlinesurfschool.co.uk
Tel: 07738128507
https://longlinesurfschool.co.uk/wp-content/uploads/2014/03/602210_341858742580478_1658889846_n.jpg
960
717
Longline Surf School
https://longlinesurfschool.co.uk/wp-content/uploads/2022/01/LongLine-Logo-Primary-Colour-Sand-1030x1030.png
Longline Surf School
2013-02-28 22:06:38
2017-03-01 11:11:49
We are just full of surprises!!