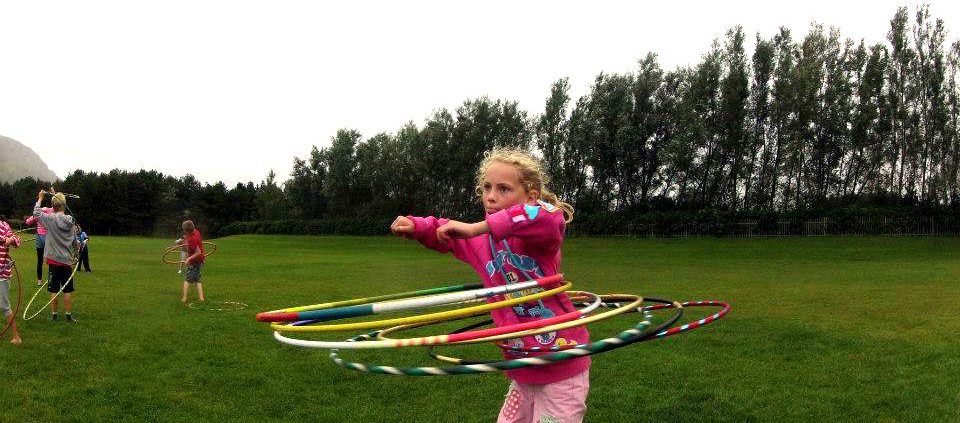 During the summer time we ran our Kids Big Days Out which consisted of surfing, beach games and swimming but over the 6 sessions that we ran I wanted to mix it up a little and so I invited my friend Catherine Simpson along who is the owner of Harlequin Hoop Dance which is super cool and completely different. She even came to my 22nd birthday to do a Fire Hoola Hoop Dance. Even got to give it a go myself. Wasn't very good at that point but still a laugh.
When we got the kids involved I was surprised how good they were but it just shows that kids have no fear and a lot of confidence. If we all had this approach to life we would be pretty talented people!!!
Catherine has now organised this years World Hoop Day event for Ireland in that anyone around the country gets together with other hoop enthusiasts and has a session and films the experiences to then be edited and made into one video to show this talent come together all over the country.
I feel that when it comes to Hoola Hooping it does seem to be a female dominated sport and this isn't because Men are told they can't join in but men find it quite feminine and so it "Isn't manly enough" which is completely wrong. Its like anything in life…. you have a good time doing something then just do it without thinking what other people think of you which most of the time people don't really care what you do and don't do.
I would encourage anyone who hasn't given this a go or maybe you haven't given it a go since you were a child, it is amazing. I can just about continuously hoola hoop for an entire song, especially that sexy and you know it by LMFAO!!! haha and I'm proud of that!!
I even now have my own Glow in the dark Hoop kindly made for me as a Christmas present by Catherine and Shell who is one of my favourite students. So go out and give it a go on World Hoop Day which is 12th December 2012. If you do give it a go post it on our facebook page. we would love see to it. Once I get back to Ireland I will attempt to do it while riding a wave and post that video. Shouldn't be too hard (I say this while sitting behind a desk looking at a laptop)!!!
Next Year we have a number of Hoola Hoop sessions mixed in with our surfing diary:
Hoops and Zumba – "Dance Party at the Beach" Adults
20th April
22nd June
7th September
Kids Big Day Out – Summer sessions
5th July
19th July
9th August
23rd August
We will have more information on these events as the new year comes around. Enjoy world Hoop day guys!!
https://longlinesurfschool.co.uk/wp-content/uploads/2014/03/393422_279480308818322_2016049490_n.jpg
720
960
Longline Surf School
https://longlinesurfschool.co.uk/wp-content/uploads/2022/01/LongLine-Logo-Primary-Colour-Sand-1030x1030.png
Longline Surf School
2012-12-05 13:30:34
2017-03-01 11:11:50
World Hoop Day